Complementing cyberREN clinical charting (data entry / viewing) features is a provision for generating hard copy reports of various chart records over the entire patient population or a selectable subset of the population, and the ability to initiate the printing of such documents.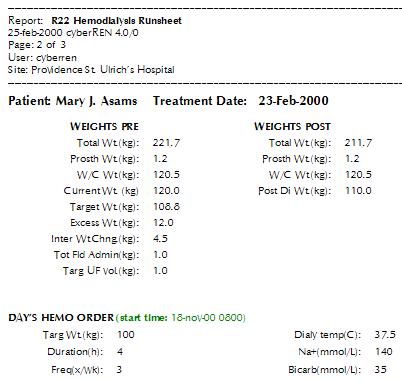 cyberREN can generate a variety of printed reports, which can be used for:
CQI control, quality analyses
daily rounds,
medical record excerpts for the patient to take home,
interpretation and planning of treatment strategies,
providing documentation at places of treatment not equipped with access to cyberREN.
maintaining a legacy (partial) paper chart system
Standard cyberREN reports consist of a selection of clinical data presented in a predefined format. Reports may apply to a single patient, but more often to the entire or subset of patient population in a particular modality.
cyberREN also provides features for the statistical evaluation of charted data through both native cyberREN functions as well as through third party tools such as Microsoft Excel. The native statistical functions provided below can be as simple as plotting trends over time and as involved as definition of specific reports complete with the calculations of averages, standard deviations and other statistical parameters.
cyberREN allows the user to query the database in an intelligent manner, and generate either hardcopy (printed report) or electronic output (comma separated variable file, exportable to Excel) containing the results of the query.
A report defined using cyberREN's General Query (GQ) function may be an on-demand report, used once to obtain specific data from the cyberREN medical record for a particular purpose.
A user defined report (UDR) may be added as a permanent entry in cyberREN's set of reports, accessible by all users upon demand.