The CML mission statement:
"Through the delivery of clinical data management software and supporting services to a broad spectrum of renal care facilities, CML will create a working environment which clinicians and administrators have complete access to and comprehensive use of patient health care information, empowering them to significantly improve the quality, safety and efficiency of patient care delivery."
Cybernius Medical Ltd. (CML) is focused on automating and improving renal healthcare delivery, and commits 100% of its resources to this end. CML continually engages in extensive R&D; more than 30% of CML revenues are invested back into product development. This operating philosophy has kept CML at the leading edge in the field, and has established cyberREN as a leader in clinical data management in Nephrology.
CML started its operations by providing information technology and related services to the North American Market. Offices in Switzerland and Kuala Lumpur have extended CML's products and services offerings to the European and South-East Asian markets.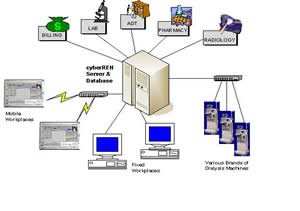 UK Office – Manager Profile
Steve Jones, UK Business Development Manager
Steve is a BCS Chartered IT Professional with qualifications in Electrical and Electronic Engineering, Business Management, ITIL service Management, and MSP. He is a Prince 2 Practitioner and has over 30 years experience of IT Change Management in the private and public sectors. Whilst working with the University of North Staffordshire NHS Trust , he project managed the selection and implementation of cyberREN, CML's first site in Europe in 2003. Steve is a keen advocate of people development and has close working relationships with the British Computer Society, and Salford and Stafford Universities through their BSc and MSc student industrial placement programs.
New Products 2009
cyberFUNDS offers a complete, price competetive suite of financial management functions through a fully graphical user interface using modern relational database technology and a full integration with the cyberREN medical record. The design of the system minimizes complexity, automates the integration of clinical and financial data as required by the payers and shortens workflows as well as billing cycle times as much as possible.
Please address all inquiries regarding the cyberFUNDS system to Cybernius Medical Ltd. at info@cyberren.com or at 800.276.8128
cyberREN is a comprehensive, advanced electronic medical record for renal health care delivery. In addition to conventional charting functions.
cyberREN provides many novel and useful extensions, such as; sophisticated reporting, data analysis, graphical display of trends, statistical evaluations, automated import of data from dialysis machines or laboratory data systems and automatic calculations (e.g. dialysis efficacy).
cyberREN is a multidisciplinary system i.e. is used by all caregivers involved in the treatment of renal disease, including physicians, nursing staff, social workers, dietitians and technical maintenance personnel.
cyberREN is a complete system supporting all modalities of renal failure treatment, including pre-ESRD (CKD), hemodialysis, peritoneal dialysis and transplant modalities.
CML pioneered the monitoring of remote patient treatment in slow nocturnal hemodialysyis (SNHD) treatment.
2009 Trade Shows - International
Arab Health 2009 - Dubai International Convention and Exhibition Center. January 26th - 29th 2009
Swiss Pavillon, Booth RD18, Sheik Rashid Hall
Summer - 2009 Trade Shows International European Renal Association - EDTA Milan Italy, May 22nd - 26th 2009
Acquire Excellence
MARKETING RELEASE April 2008
Cheshire and Merseyside Renal Services (CMRS) have just recently signed a contract, believed to be the largest in Europe in the past 3 years, under which Cybernius Medical Ltd of Canada will supply the cyberREN Renal Electronic Medical Record system for ten hospitals within the Merseyside and Wirral health economy. It marks a departure away from looking at a dedicated solution for each hospital, instead considering a regional deployment which saves money costs and lowers clinical risk in ensuring that their patent records are available wherever their patients are seen and treated across that region.
The system will be implemented hosted at Royal Liverpool Hospital and Broadgreen University Hospital and will electronically integrate all Nephrology patient's medical records including transplant information together with ADT patient demographic information, laboratory results and haemodialysis session treatment data. The treatment centers at Alder Hay, Aintree, Arrowe Park, Broadgreen, Clatterbridge, Countess of Chester, Southport, St Helens, Warrington, and Whiston will also be users of the system.
Speaking on behalf of CMRS Julie Batterton the Associate Directorate Manager Nephrology & Renal Transplant Directorates Royal Liverpool & Broadgreen University Hospital Trust said "After a thorough selection process, cyberREN came out on top in every way. To ensure we were making the correct choice we went to see all the systems we were considering in action and when we went to see cyberREN we realized what could be achieved in Cheshire and Merseyside. We hope to be fully operational by the end of the year."
The Chief Executive Officer of Cybernius Medical Ltd., Ulrich Simonsmeier goes on to say "We worked very hard to secure this contract and we are proud to be adding a second site to North Staffordshire here in the UK. We are simultaneously involved in several other significant tenders for large UK sites. Our success comes upon the back of recent contracts agreements secured in India, Malaysia, California, and New York. Our product EMR system is constantly evolving to meet the changes in Nephrology renal care practice and regulatory environments and our worldwide presence allows us to incorporate the best ideas from each market into cyberREN and its sister product Nephrology cyberREN Office. Our business plan is to maintain our position as the leading Renal E M P R system, and integration services provider, in the world."
Steve Jones, the UK Development Manager for Cybernius Medical based in North Shropshire, adds " W e ar e delighted to be working in partnership with CMRS as this regional deployment approach demonstrates very well the economies of scale which can be enjoyed when Trust's pool budgets and resources to collaborate on complex data flows. It's our second largest deployment in the world and it will be a super challenge integrating the ten hospitals allowing us to showcase our system and services in an area already nationally recognised for the effective deployment of IT in streamlining NHS services. We are in talks with three other hospitals in the North West who would like to adopt the system too and share the facilities at Broadgreen."
For further information email Steve Jones sjones@cyberren.com or Chris Meyer in our Zurcih office chm@cyberren.com